Homemade food for lunch or snacks
at EMJI
At EMJI, in the heart of the historic center of Rouen, come taste our coffees, teas and pastries, lunch. Different extraction methods allow you to discover the flavors of coffees from "Normandy Roasters". Tea is served at the proper temperature with a timer to guide you on the ideal brewing time. All our pastries are made on site and entirely homemade, as are the savory dishes. The three dishes offered on the menu vary each week, there is always a vegetarian recipe on the menu.
Fresh produce, homemade, tasteful and simple, all in a pleasant and convivial atmosphere.
A 100% cheese dish
at Maître Corbeau
"Master Crow, on a perched tree, held in his beak a cheese"… and even more than one! Goat, reblochon, camembert, raclette cheese … cheese lovers will delight in this restaurant with atypical decoration. Several meatless dishes are offered as fondues, omelets or eggs.


Eating at La Régalière will put everyone in agreement: whether you're vegetarian or not, you'll find a pancake that suits you! With cheese or sun vegetables (among others!), you will have the choice of ingredients that make up your pancake. In addition this creperie with a blue frontage offers a ravissant.
A picnic
on the Sainte-Catherine hill
No don't look for it, there is no restaurant at the panorama of theSaint Catherine Hill. But we suggest you prepare your vegetarian picnic as you like: cherry tomatoes, olives, bread, cheese, without forgetting the drinks… And enjoy it as a couple, with family or friends while admiring the view over Rouen and the Seine! Good idea, right?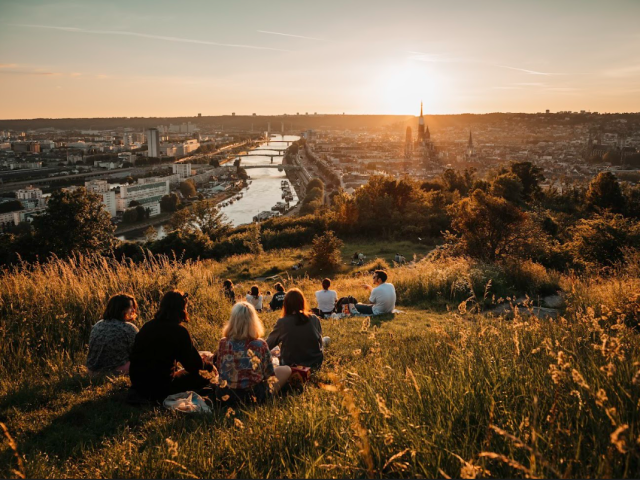 A vegan dish
at the table of Flore
Not only does Flore offer a vegan dish, but her cuisine is made with local products, 90% organic! Discover this charming restaurant where you can enjoy your meal in the quiet of the pergola, with books at hand. Note that the chef has joined Slow Food Terre Normande, which campaigns for good, clean and fair food.
Good eating!