Art exhibitions throughout the year
The Rouen metropolis has choices
With its collection of more than 2,700 works, the spectrum that the Fonds régional d'art contemporain (Frac) Normandie Rouen covers is impressive. The Matmut Contemporary Art Center Castle is not to be outdone with its four exhibitions per year of artists of national and international scope. More industrial atmosphere at the SHED in Maromme where creation is lived as an experience. Contemporary art is also invited to Hangar 109, Epoxy and even in churches with the festival Courant d'art or in the eleven museums of the Metropolis with the event La Ronde which proposes to today's artists to make dialogue their works with the permanent collections. Take advantage of it, it's free!
Live art outdoors!! In the land of the Impressionists who took their easels out of the workshops to be as close as possible to the outdoor sensations, it is only natural that art is lived in the open air. Take the street-art itineraries that crisscross the city, to meet the frescoes of local and international artists. In 2024, rush into the Forest of Roumare, with its land art course of XXL works. This "Monumental Forest", whose first edition took place in the Green Forest, is an international event and delights the young and old. Muse in the park of the Matmut Contemporary Art Center to enjoy sculptures by world-famous artists, in that of the Château de Vascœuil with works by star artists or that of Château Bois-Guilbert and its poetic creations that smell of calm and escape.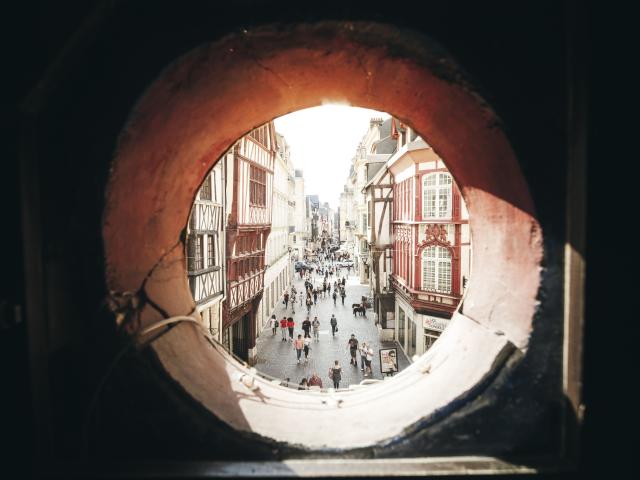 5 must-see photo spots in Rouen
You discover Rouen and you want to photograph everything in order to immortalize this charming city, its alleys, its half-timbered houses, its Cathedral, the quays of the Seine… You may not have the time to see everything or you just want us to give you good advice: here are the 5 must-see photo spots in Rouen!!
The Street-Art, also called urban art, groups all artistic practices carried out in the street or in public places. It is most often ephemeral, free and accessible for free to a wide audience. Rouen hosts many artists who dress the streets and alleys of the Norman metropolis.