The Seine in Rouen and its surroundings
This river is an integral part of the landscape of the Rouen metropolis. Dividing the capital of Normandy into two distinct banks, it is also the link between the many communes of our territory. From Le Trait to Sotteville sous le Val, the Seine reveals a multitude of faces that will delight lovers of boating and nature activities: towpaths, limestone cliffs, hiking trails …
La Bouille, Sahurs, Saint-Martin de Boscherville, Jumièges, Freneuse or Elbeuf will offer you magnificent landscapes, immortalized, for some, by great masters of impressionism.
The House of Hermès also paid tribute to Rouen, its river and its port by creating in 2003 the square "Rouen sur Mer".
The recreational and industrial port activities present in Rouen and the Seine Valley illustrate the importance of this river for all the communes of the Rouen – Normandy Metropolis.
The Seine is more than 14,000 years old: Although many modifications and developments have been made by Man, the course of the river would be broadly the same since 12,000 BC.
At Le Havre, the Seine estuary is one of the three largest in France with the Gironde and the Loire. It is nearly 10,000 hectares of wetland offering typical expanses such as salt meadows, reed beds, wet meadows or mudflats. These natural areas are protected by The Nature Reserve of the Seine Estuary.
The great flood of 1910: The Seine is a centennial river, ie each year there is a chance in 100 that the river returns in flood. In 1910, Parisians had to travel by boat with a flood record of 8.62 meters above the Austerlitz bridge.
The Seine and the numbering of Parisian streets:The Seine has had a real influence on the numbering of Parisian streets.
The streets perpendicular or oblique to the river always have their first number at the entrance of the street on the side closest to the Seine. Parallel street numbers follow the direction of the current in ascending order.
The Vikings went up the Seine: In 841, the Vikings plundered Neustria, burned Rouen and besieged Paris all by going up the river on their famous longships!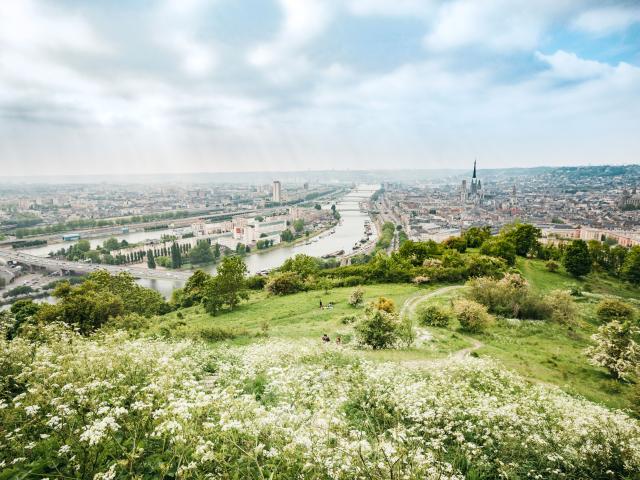 Only the Tancarville Bridge allowed in the 1980s to cross the Le Havre estuary. With road traffic increasing drastically, a new bridge was needed. In 1987, the construction of the Pont de Normandie was launched by the Chamber of Commerce and Industry to facilitate trade between Honfleur and Le Havre. Spanning the Seine estuary, the bridge is now one of the 10 most beautiful in France.
On the right bank of the Seine in Rouen is the cathedral of Rouen, the highest in France. Notice to history buffs, it housesone of the three tombs of Richard the Lionheart, King of England Duke of Normandy, Duke of Aquitaine, Count of Poitiers, Count of Maine and Count of Anjou in the twelfth century.
The shipwreck of Telemachus: it was in Rouen in 1790 that a sailboat named Telemachus was shipwrecked for reasons that are still unexplained. Many legends circulate claiming that the boat was carrying a fabulous treasure, which would still be lost at the bottom of the Seine today.
The Seine and the Normandy landings: early June 1944, many Allied bombings neutralize a large majority of bridges located between Paris and the sea constituting strategic points essential to the smooth conduct of the D-Day.
The goddess of the Seine: in Gallic mythology, Sequana is the nymph of the sources of the Seine. Located in a park, a former Gallo-Roman sanctuary in Source-Seine in Burgundy Franche-Comté, these springs can still be visited and are owned by the city of Paris, a true 21st arrondissement for the capital!"