The street of the Gros-Horloge
One of the most famous streets in Rouen
With the Notre Dame Cathedral, we can say that the Gross Clock is Rouen's most iconic monument. Located in the middle of the street that bears the same name, the Gros-Horloge is Instagrammable at will, no matter the angle of view!
You can also climb up to the Belfry to immortalize the street seen from above, with its stores, half-timberings and walkers. From this vantage point, you won't be able to miss the Cathedral and its spire that rises to 151m, the highest in France. We are sure, this almost 360° panorama on Rouen will delight your subscribers.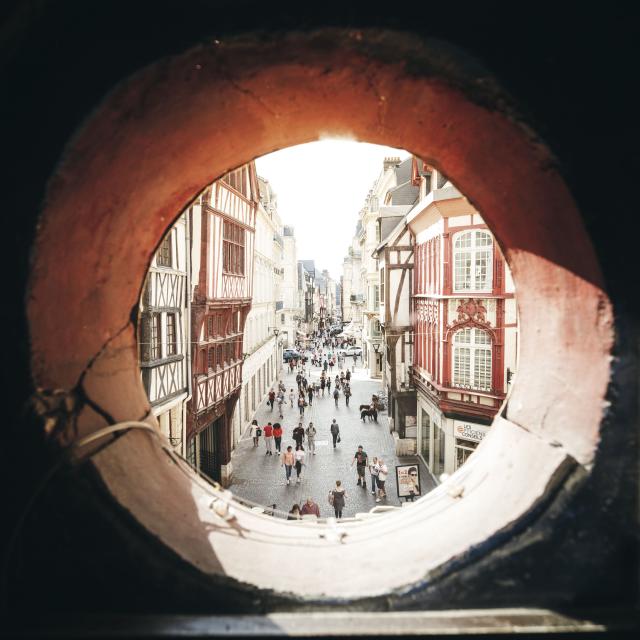 Massacre Street
A charming place
An Instagram star, Massacre Street is often featured on the famous social photo network, especially at the end of the year. It is often at this time that it is adorned with the most beautiful decorations to catch the eye of passersby. Umbrellas, frames or even big bows give color to this charming shopping street. We look forward to the next ornaments.




Martainville Street
In the heart of the antique dealers
His half-timbering and pretty colors can't leave anyone indifferent! Located in the Saint-Maclou district of Rouen, also called the Antique district, and running alongside the Saint-Maclou church, Martainville street is composed of many restaurants that enliven it. Photographers will be seduced by the succession of wooden panels of all colors as well as by the "leaning house" that appears on the horizon, at the corner of rue Damiette.




Eau-de-Robec Street
A very typical street
It is one of thefavorite streets of Rouennais but also of tourists. It must be said that its small waterway that crosses it, its half-timbered houses and its neighborhood life give it a crazy charm! Rue Eau-de-Robec is also one of the most Instagrammable streets in Rouen. In addition to its colorful facades, there are terraces that are always full and you can even see games of petanque. Everything is gathered for photos with certain success on Instagram.




The street of the fairground with drinks
Another atmosphere
This is undoubtedly the least known of the 5 Instagrammable streets in Rouen but probably the most "exotic". A stone's throw from the Prefecture, the street of the fairground to the drinks, with atypical shapes, amazes with its low houses colored in pastel shades and the public lighting suspended between the houses. We'll let you judge for yourself!

Don't forget us!
Share your memories with us
We love discovering your snaps when you visit Metropole Rouen Normandie. If you'd like to be re-shared on Rouen Tourism's Facebook and Instagram accounts, identify us with @rouentourisme or put #rouentourisme.
See you soon!