Panoramas like
photo spots during the Armada
To admire the largest sailing ships in the world, you sometimes need to get some height. Rouen's geographical location allows for a breathtaking view of the city and its Seine quays from several panoramas.
The panorama of the Colline Sainte-Catherine is surely the most famous of them. It is located to the east of the city and provides a breathtaking panoramic view. On the opposite side of the city, there is the panorama of Canteleu. It is the one that allows you to most certainly have the best view on the port of Rouen and its Seine docks.
North of the city, the Panorama de Mont-Saint-Aignan will offer you a different angle on the banks of the Seine and the sailboats moored there.
From the top of its three panoramas, you will be able to make your long lenses work for an optimal rendering.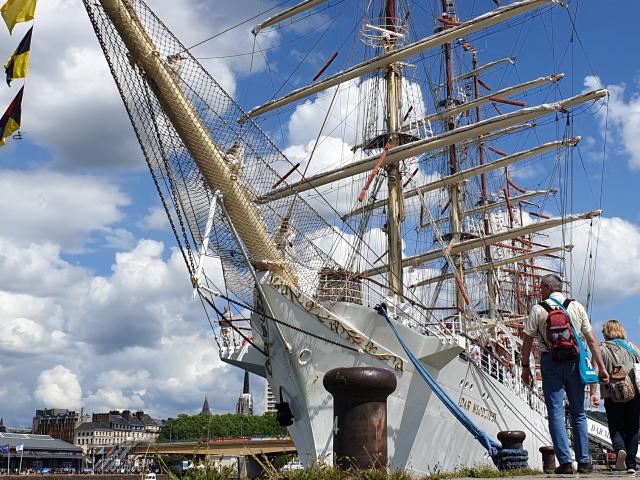 The cruises
in tourist stars
All of the boats are open to visit. This will allow amateur or more seasoned photographers to get as close as possible to them. A tip to avoid the many visitors on the quays of the Seine and have a different angle of view? The Tourist Office suggests you take part in one of the many cruises organized on the Seine.
Effectively, comfortably installed on a cruise ship or a tourist boat, you will have the privilege of having a direct view of the sailing ships and their hulls during the day, at sunset or during one of the fireworks.
The Great Parade
of the Seine-Maritime
Another idea to take nice shots of the event, we suggest you go green for a day. On June 18, the Grand Parade will take place, marking the departure of the boats to other horizons.
Follow the meandering Seine and find a quiet spot with the backdrop of one of the many landscapes of the Norman bocage. All day long, you can watch a ballet of ships with open sails and sailors in action.