The Armada,
in Rouen from June 8 to 18, 2023
With the Normandy Impressionist Festival,the Saint-Romain Fair or one of the international events at the Kindarena sports palace, the Armada is a highlight of Norman life and Rouen tourism.
During the Rouen Armada, the most beautiful boats come on this occasion to show off their history. The different districts of Rouen and the communes of the Rouen metropolis will be decked out in the colors of the different nationalities of the invited boats. More than 8,000 sailors will walk in the streets of Rouen under the Big Clock or still on the Place du Vieux-Marché.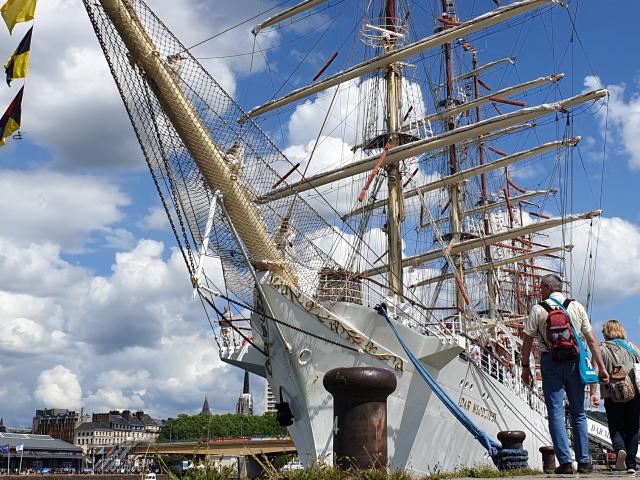 Missing video title
Missing video caption
Armators, rigs, hulls… No need to know all the marine vocabulary to come to the Armada. Just put on your Captain's hat, cast off and let yourself be guided. Following the 2019 edition, the Armada returns to the quays of the Seine in Normandy for an 8th edition in 2023. After sailing many oceans and seas, visiting many ports and destinations, a whole fleet of exceptional boats will pass the Seine estuary to reach the capital of Normandy and its Notre-Dame Cathedral from June 8 to 18 for 10 days of festivities.
Book your Armada,
Cruises, lunches, parades on the Seine...
Enjoy our day and evening cruises on board launches, cruising or with on-board catering, not to mention sailing aboard the most beautiful sailing ships.Give your loved ones a unique experience with Armada gift cards.
A unique opportunity to experience special moments with family and friends.

Big mess, religious celebrations, sailors' jogging
The great mess and its UFOs, religious celebrations on Sunday, jogging in Rouen, the great parade of the Seine Maritime for a last goodbye…, a colorful program that will make you live an Armada as you have never seen it.
The sailors will welcome you every day along the quays to make you discover their sailing ships full of history. You will be able to embark on tourist launches that will take you on a journey along the Seine. On the occasion of cruises walks, lunches or dinners or during the fireworks, you can admire the ships from the river.
On the program, every evening free entertainment on the right bank and left bank quays. Concerts, fireworks and the Great Parade of Seine-Maritime will make you live magical moments on the quays of the Seine in Rouen.
At no cost, the Armada of Rouen is much more than a large gathering of galleons, schooners, school sailing ships or military ships. Thanks to a program of activities and entertainment, this event becomes exceptional.