The appointment is made in front of the Tourist Office, our guide welcomes us and introduces us to the tour after having made a tour of the participants. Adapted for adults and children (from 5 years old), here we go to discover Rouen and its heritage thanks to animals.
Original theme, animals are the good idea chosen by our guide to talk to us from the place of the Cathedral of the details of the architecture. The magic works, the children lookon the facades for lambs, leopards or even little monkeys while the grown-ups listen to the anecdotes and more precise historical details of the guide.

After observing the animals ofthe Cathedral square and on the Bureau des Finances (current Office of Tourism), we follow the guide to discover the rue Saint-Romain and the Cour des Libraires of the Cathedral.
Between the pig with a toothache located on one of the facades of the former Hotel Romé, or the gargoyle of Saint-Romain, we are immersed in the medieval history of the city. Our guide also indicates through photographs of places in Rouen where we find similar animals, opening our desires for discovery after the visit.
The animals present in the streets, on the monuments or even on the stained glass windows testify symbols of French history or past religious representations.
The visit ends in theantiques district. After detailing the portals of the église Saint-Maclouthen having crossed the rue Damiette and its private mansions, this playful discovery ends in the rue Eau de Robec and its half-timbered houses. A family tour of Rouen where everyone is delighted to discover the city from a new angle.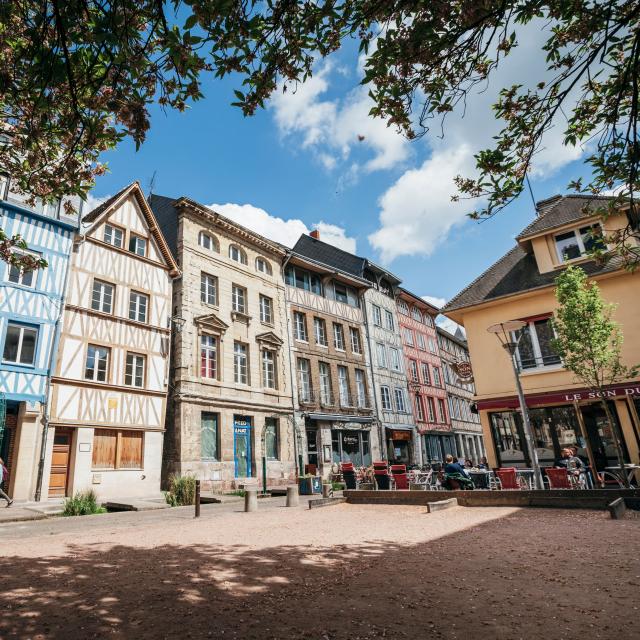 Taking a guided tour with small children is not obvious or even to be forgotten for some parents. The family tour of Rouen will surprise you. Ludic and interactive, this tour will delight both young and old.
We loved rediscovering Rouen thanks to its small animals scattered throughout the city. The presence of children also allows a different look at the monuments and history of the city. With a vocabulary adapted to the youngest, references to cartoons, or even photos of real animals for the understanding of all, our guide fascinates children and makes the grown-ups travel.