Illuminations of the Cathedral
Notre-Dame de Rouen
After a first show of illuminations of the Cathedral of Rouen on the theme of Impressionism, Notre-Dame was dressed with a new show in 2015, composed around two other themes: Jeanne(s) and the Vikings. Founded in 911 by the Scandinavian chieftain Rollon, Normandy experienced dark times with the Viking invasions of the 9th century. Joan of Arc, a mythical figure in France, retold her story in 2015 on the facade of the highest cathedral in France.
The Cosmo AV company transforms in its own way the epic of Joan of Arc and the treaty of Saint-Clair-sur-Epte, which cedes Normandy to the Vikings. The show is free and pleases hundreds of thousands of spectators throughout the season.
In 2017, the new show entitled "Proud and Conquerors" evoked the epic of William the Conqueror, the historical context, the courage of this man, who allowed the Duchy of Normandy to become, at that time, the most powerful and modern of European states.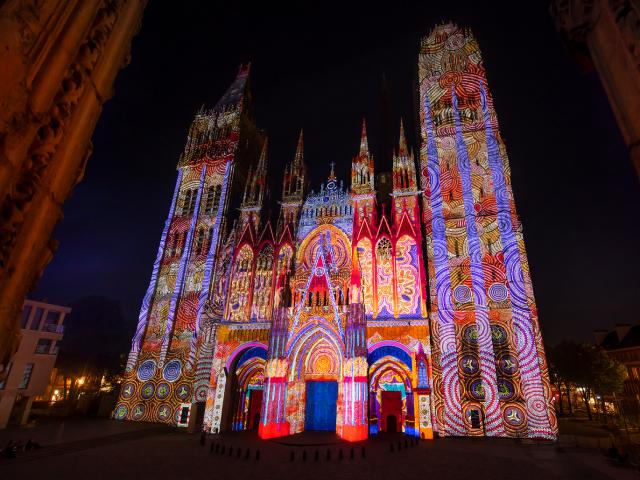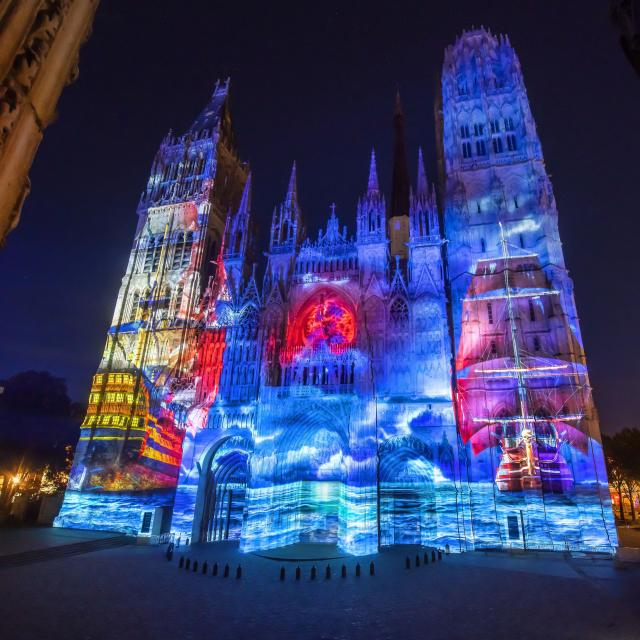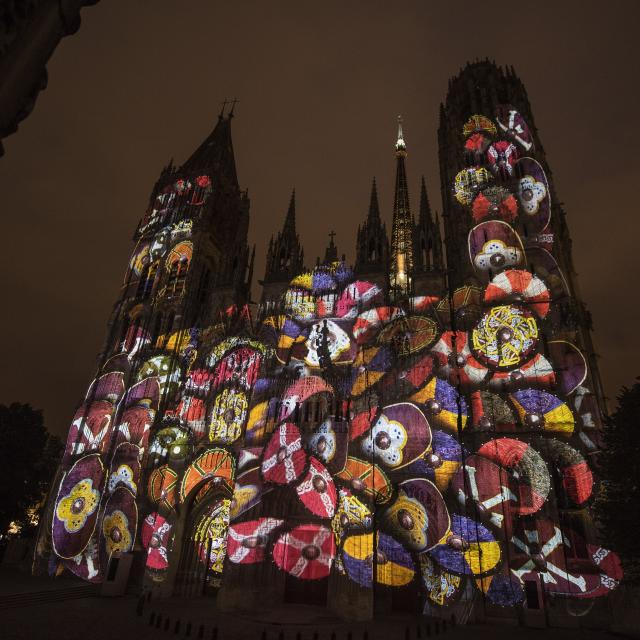 Cathedral of Light 2023
Two unique shows
From June 02 to September 30, 2023, the shows will be back.
Every evening, you can admire the Illuminations sound and light show of the Cathedral of Rouen. Two free shows will follow one another: "New worlds"on the theme of maritime conquests and "Rendezvous with light!"
around that of light, with real moments of interaction with the public.This projection revolutionizes the concept by allowing spectators to participate in the projection from their smartphones.
Every evening, the public will be invited to participate in the creation of a human and collective work. Via a QR code, those present will be able to bring the Cathedral to life by waving their phones, and may even place a virtual candle on the façade.
Spectacle : Cathédrale de Lumière à Rouen en 2019
Spectacle : Cathédrale de Lumière à Rouen en 2019
Find the dates and times of scheduled screenings from June 2 to September 30, 2023:
June 2 & 3 at 11pm
June 8-18 at 11pm: screening every night during the Armada
June 23 & 24 at 11pm
From June 30 through September 16, 2022 : Screening every night
June 30 through July 31 at 11:00 pm
August 1 through August 15 at 10:30 pm
August 16 through August 31 at 10:00 pm
September 1 through September 17 at 9:30 pm
September 22 & 23 at 9:30 pm
September 29 & 30 at 9:30 pm