The road of the abbeys
Take the route des abbayes that crisscrosses the Parc Régional des Boucles de la Seine, at the gates of Rouen. Jumièges, nicknamed "the most beautiful ruin in France" and Saint-Georges de Boscherville follow each other like a rosary in a green setting, amidst orchards, along the curves of the river. They bear witness to the rich monastic past of the territory and the majesty of Norman Romanesque art. The surrounding landscapes are breathtaking. An escape that is as spiritual as it is bucolic, where history and legends meet.
Like the fruit route, the abbeys route will allow you to visit Rouen and its Seine valley with a thematic red thread. Numerous hiking trails allow you to link the religious buildings. The abbeys route as well as the paths to Compostela or Mont-Saint-Michel are original ideas to discover Normandy in a different way.
This tourist circuit will fascinate lovers of spirituality, hiking, but also lovers of architecture. Following the loops of the Seine, here is a very good reason to take your suitcase and tour a part of the unknown Normandy for a weekend, a vacation or a stay.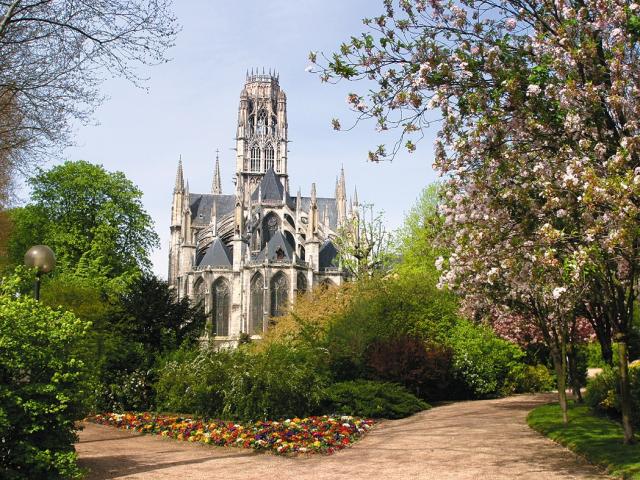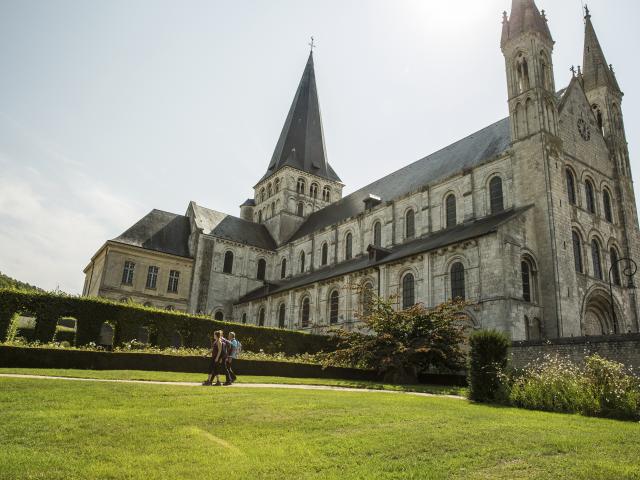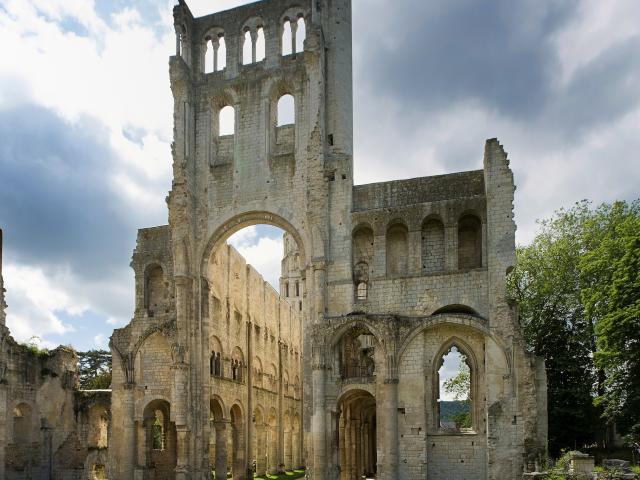 The abbeys around Rouen
Norman abbeys are three in number on the territory of the Rouen Metropolis. They are the witness to the medieval spiritual wealth still present in Normandy. The abbeys route, through this itinerary retraces the route of these religious buildings along the loops of the Seine, with the city of Rouen as the starting point. Go along the Seine, on foot, by bike or by car and travel the road of the abbeys to the loop of Jumièges to discover these unmissable monuments.
The Saint-Ouen abbey
a former Benedictine monastery
Let yourself be overwhelmed by the magnificence of the abbey church of Saint-Ouen de Rouen, at the foot of the Hôtel-de-Ville and its gardens. A masterpiece of radiant Gothic, it is the brightest church in the city with its immense stained glass windows that constitute the richest collection of 14th-century stained glass in France.
Saint-Georges de Boscherville Abbey
a jewel of Romanesque art
Nature lovers will be delighted by the 4 ha of green spaces that make up the garden of the abbey of Saint-Georges de Boscherville. It offers the reconstruction of a Maurist garden all in terraces, providing a remarkable view of the Romanesque abbey church, one of the most prestigious in Normandy, and of the village.
The abbey of Jumièges
a jewel of the Seine Valley
Described asthe most beautiful ruin in France by Victor Hugo, the abbey of Jumièges is a must-see in the loops of the Seine. Discover its two huge Romanesque towers and its roofless but majestic nave. The park houses the remains of a Carolingian church plundered by the Vikings, and a 17th-century abbey dwelling turned exhibition space.